GURMUKH
Gurmukh is the co-founder of Golden Bridge Yoga, the premier center for the study and practice of Kundalini Yoga and Meditation as taught by Yogi Bhajan. For more than four decades students in Los Angeles and around the world have sought out her classes in Kundalini Yoga, Meditation, and Prenatal and Postnatal Yoga. Since being baptized more than 40 years ago with the spiritual name that means, "One who helps people across the world ocean," Gurmukh has dedicated her life to fulfilling her namesake. As two of the world's leading Kundalini Yoga teachers, she and her husband Gurushabd travel worldwide, bringing this vast Technology and Teacher Training Programs to students globally in the U.S.A., Mexico, Europe, Russia, India, and South Africa. She is the creator and pioneer of The Khalsa Way Prenatal Teacher Training Immersion. Gurmukh's book, The Eight Human Talents, has been a long-time yoga best-seller along with her many DVDs. Gurmukh founded Seva Corp., a nonprofit organization that supports schools and orphanages in India. Her Spiritual Teacher Yogi Bhajan taught, "We came not to gather students, but to create teachers." She has dedicated her life to the teachings of Kundalini Yoga as taught by Yogi Bhajan. You can meet her at one of our Golden Bridge Yoga studios or teaching somewhere around the world! Please visit Gurmukh on the Road to follow Gurmukh's teaching schedule.
GURUSHABD
Gurushabd co-founded Golden Bridge Yoga with his wife Gurmukh. Together they had the unique opportunity to study Kundalini Yoga directly under Yogi Bhajan in Los Angeles and New Mexico for 25 years. Today they travel worldwide, bringing this vast Technology and Teacher Training Programs to students globally in the U.S.A., Mexico, Europe, Russia, India, and South Africa. Gurushabd likes to teach challenging classes that encourage students to move beyond old comfort zones, and into deeper more meditative experiences. His gong meditations are powerful and transformative.
AMANBIR

Amanbir is a Kundalini Yoga teacher, yoga therapist & licensed acupuncturist based in New York City. He offers a healing and fun approach to the ancient lineage of Kundalini Yoga. In each class Amanbir is known for bringing his sense of humor, music, and extensive knowledge of the healing field. Amanbir currently teaches his in-depth understanding of western physiology, eastern anatomy & astrology in various yoga and therapy trainings world wide. He holds a Master of Science in Traditional Oriental Medicine and a Bachelor of Science in Engineering.
JAI DEV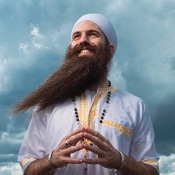 Jai Dev Singh is a yogi and teacher. His innovative Kundalini Yoga and Ayurveda courses have been attended and studied by thousands of people throughout the world. The flagship courses he's authored include: Unlocking the Life-Force, The Complete Course of Ayurveda, The Radiant Body Home Course and The Life-Force Academy.

Jai Dev is a Clinical Ayurvedic Specialist and previously served as the Clinical Director at the California College of Ayurveda, as well as the director of the college's Pancha Karma Center.

He is a Kundalini Yoga teacher, certified by the Kundalini Research Institute. Jai Dev serves on the board of the Guru Ram Das Center for Medicine and Humanology. He is a partner at Floracopeia, Inc.

Jai Dev lives in northern California with his wife, Simrit, and their son.
SAT SIRI

Sat Siri is a trail-blazing Yogini and Lead Teacher Trainer. She is a Mama to her 3 year old energetic daughter Prem. She frequently travels internationally training new teachers all over the world, and in the United States.

Sat Siri, a lifelong athlete, was a former ballerina with the Australian Ballet. She has been practicing yoga and meditation for over 20 years and completed her Kundalini Yoga teacher training in 2003 under the guidance of Yogi Bhajan. She opened the first Kundalini Yoga studio in Sydney, Australia.

Sat Siri's teaching style is uplifting, challenging and healing at a deep level. Her teaching is informed by the vast healing she has experienced from doing 'the work' in her own life.

She believes it is everyone's birthright to experience the peace, grace and blessings that awaken with daily Kundalini Yoga and Meditation and with aligning to your true path.