Level 1 Teacher Training Rishikesh
September 29th - October 22nd 2023

Dearest Brothers And Sisters In The Divine,
Sat Nam and God bless you!
We are so so so excited!
Beautiful Rishikesh in Mother India is calling you Home. We are delighted beyond words that we're all going to be together soon in India. Throughout this past year life for many of us has been challenging and at the same time very rewarding. We pray this Teacher Training will be a respite, reset, and recharge time for you of inspiration and direction. Throughout our 50 years of leading Teacher Trainings, the biggest joy is the friendships and the love that grow within the Trainings.
Teacher Training is more than learning from a book how to live and how to teach. We'll actually be living, eating, playing, learning, laughing, and teaching together throughout the Training in our magical mountainous home. The air is clear. The sky feels so close. The Stars, the Moon, the Sun… ahh! If you haven't been in such beautiful nature in a long time, this in itself will be such an experience of delight and wonder.
We'll be in the fresh air. In the afternoons we'll have time for walking, resting, and exploring!
The setting is designed for learning. The time is perfect. Are you ready? Are you in?! Rishikesh is Home, where we'll be sharing time together for our Level One Teacher Training: October 1st – 23rd, 2023.
Please come join us to learn the Ancient Science of Kundalini Yoga. Challenge yourself. Confront self-imposed limits. Touch your Soul. Experience your highest and purest consciousness. Gain the knowledge and confidence to build a more peaceful, healthy, and creative life.
Immerse into a Kundalini Yoga Teacher Training in this idyllic location on open land in the mountains with the running river. For thousands of years the yogis studied on this same land. The feeling of the energy at the base of the Himalayas is beyond words.
India is everything, just like yoga… beautiful, expansive, dynamic, spontaneous, challenging. Please join us if you are looking for a life-changing opportunity. You will experience your strength and grace, and reconnect to your personal truth.
"If you want to learn something, read about it. If you want to understand something, write about it. If you want to master something, teach it." ~ Yogi Bhajan
This in-person Teacher Training will teach you:
All the Postures and Sequencing
Meditations
How to speak with your most authentic voice
How to teach complete classes
How to speak effectively and help the students
The art of listening
How to select music to consider for your classes
Chanting
Mantra pronunciations, meanings, and effects
Mudras
Purposes and outcomes of the Kriyas
How to prepare a class
The student-teacher relationship
How to dress appropriately
How your appearance contributes to your projection
Knowledge and experience in healing yourself and others
Some great reasons to come join us in this amazing Kundalini Yoga Teacher Training Course:
We as teachers are continuing to work on ourselves, exploring how to make this Sacred Work relevant in these times.
A clear, systematic approach to the vast dynamic of the Teachings
A clear, in-depth explanation of the esoteric and scientific information that is relevant to Spiritual growth through Kundalini Yoga
A soothing environment
Group Sadhana
Delicious vegetarian/vegan cuisine
Growing friendships
Peaceful quietude for deep experiences
Dynamic interaction
Teachers with a combined experience of more than 100 years of living and teaching these Teachings
Within this group, coming to know each other and your teachers
Allowing Consciousness to produce a new pattern in your life
Through the power of Collective Consciousness, understanding the Teachings through experience
A deep experience that transcends the mind's mental patternings
Fun, joy, dance, and laughter
Every afternoon is filled with activities such as walking, coming to know each other, and roaming around the land.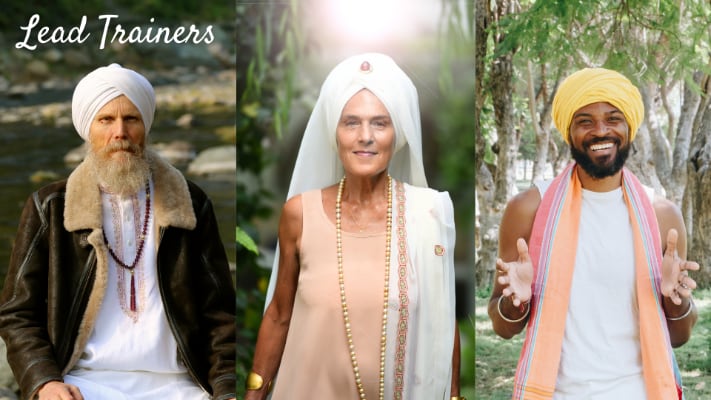 Who Are Your Lead Trainers?
For the past 52 years, Gurmukh has been living and teaching these Teachings globally, feeling so blessed to be part of the worldwide Kundalini Yoga Tribe. Watching these Teachings help humanity keeps her going. The joy that wells up in her heart in anticipation of the 2023 Rishikesh Level One Teacher Training is beyond words….
Gurushabd at 71 years of age has been living and teaching these Teachings for the past 41 years. Gurushabd and Gurmukh have been married for 40 years. They travel the world over… teaching, helping to build community, and serving the planet with this Ancient Technology. Gurushabd, an ardent student as well as teacher, is in love with Kundalini Yoga and is excited to teach you the science in detail. His Sadhanas are long, sharing with you the experience of the science. You will enjoy sharing time with this Beautiful Soul one on one as well as within group settings.
Amanbir is a Doctor of Chinese Medicine and Acupuncturist. He has been working with patients for 13 years, and teaching Kundalini Yoga for more than 15 years. He has helped people around the globe to heal issues of mind, body, and soul with Yoga and Eastern Medicine. His greatest calling in life is to teach others to heal themselves. He looks forward to being with you. As a healing teacher, he will help to deepen your understanding of your body's autonomy and the sacred flow of your meridians.

Who Are Your Associate Teachers?
Amrit Nam Kaur is a Kundalini Yoga Teacher, living in New Delhi, India. In 2007, she was introduced to this magnificent technology, and has been teaching since 2009. She is blessed and graced to be the mother of three children. She is certified in Traditional, Vinyasakrama, and Transformational Yoga; Ayurveda; and energy-work modalities. She is studying to create a new system of Kindergarten with Buddhist philosophy and Waldorf development methods. Loving Kindness, Compassion, and Service are key to her life.
Balwant Singh has studied and practiced Kundalini Yoga with Gurmukh and Gurushabd for more than 20 years. In 2011, Balwant Singh started teaching and has since assisted with more than a dozen Golden Bridge Teacher Training Programs. He is dedicated to delivering these Teachings, for he has witnessed the incredible results of this amazing Technology and wishes for people to live extraordinary lives through the practice of the Art and Science of Kundalini Yoga and Meditation. He enjoys helping people to find and develop their inner warrior, and is excited to relate these concepts and practices to you this Autumn in India.
Gail Atma Dharam, a mother of two, resides in New York City with her beautiful husband Bill. For 17 years, she has been a Khalsa Way Prenatal and Kundalini Yoga teacher. She believes that laughter, love, kindness, and Kundalini Yoga can work miracles. During the Covid pandemic, she designed a weekly remote Zoom "Kundalini Chair Yoga For All" class for her mother who, at 85, had never done any yoga. In the first class her mother conquered her initial fear of yoga by starting movement and meditation in a more comfortable seated posture on a chair. By the end of that class she experienced a profound shift from chronic pain to feeling pain free.
Born in Mexico City, Harpreet Kaur is a second-generation yogi. Her mother was one of the first Kundalini Yoga Teachers in Mexico trained by Guru Dev Singh. Harpreet Kaur was fortunate to receive these Teachings at a young age from her mother, Guru Dev Singh, and Yogi Bhajan in Española, New Mexico, USA. Her healing methodology, "Inner Reset," is based on Craniosacral Therapy, Family Constellations, and Kundalini Yoga. She lives in Mallorca, Spain, with her husband and three children.
Jugat Guru Singh was born into and grew up within this beautiful lifestyle. Throughout his entire life he has been immersed in these Teachings, guided by Yogi Bhajan and mentored by Guru Dev Singh in Sat Nam Rasayan. For more than 25 years, Jugat Guru Singh has lived in India, studying with various great Masters the Sound Current and the Scriptures along with the depth of the cultures. For 25 years around the world, in order to share this experience, Jugat Guru Singh has been teaching Kundalini Yoga Level One and Level Two Courses, leading Intensives, and facilitating Japas. For 28 years, he has been married to his beautiful wife. They are the blessed parents of three radiant children.
Registration
Refund Policy
Course Schedule
Payment Options
Location
More Information